Le palais des glaces de Rover . Le Monde.fr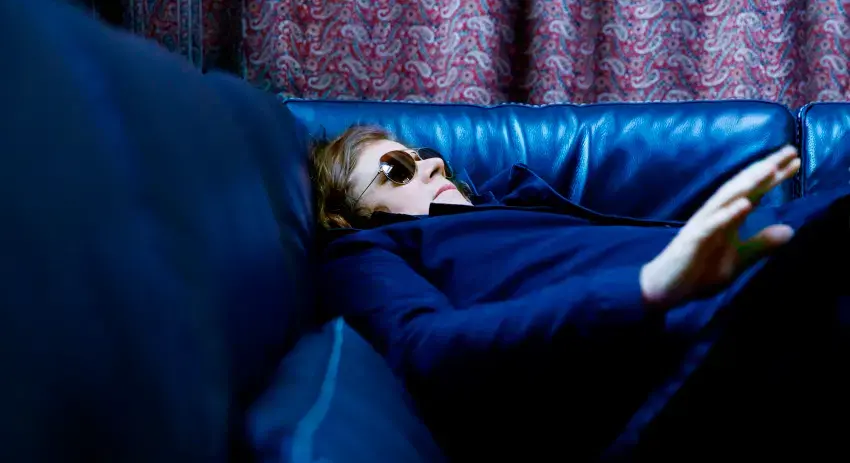 Le palais des glaces de Rover . Le Monde.fr
Musique : le palais des glaces de Rover
Le chanteur et multi-instrumentiste offre avec « Eiskeller » un splendide troisième album, conçu dans d'anciennes glacières bruxelloises.
Par Bruno Lesprit

Rover à Bruxelles en 2021. CLAUDE GASSIAN

Où il y a de la gêne, il y aurait du plaisir. C'est avec en tête cette inversion de proverbe que Timothée Régnier, chanteur et multi-instrumentiste mieux connu sous l'alias de Rover, a choisi de se cloîtrer dans un lieu froid et guère hospitalier pour confectionner son troisième album, Eiskeller – soit « cave à glace » en allemand. Ce mot, inscrit sur les clés de l'atelier qu'il a occupé dans les anciennes glacières de la commune bruxelloise de Saint-Gilles, a fini par agir comme un « mantra rassurant ». On lui avait parlé de la possibilité de louer un espace dans ce site industriel reconverti en locaux culturels (ateliers, locaux de répétition), qui fournissait jadis les brasseries : « Il n'en restait qu'un : le plus grand, le plus austère, le plus froid – 8 °C à l'année –, au sous-sol. »
Le musicien se demande encore pourquoi il s'est « infligé une expérience comme celle-là », une quarantaine pour son entrée dans le même âge : s'enfermer et s'isoler pendant quinze mois, les quatre premiers à se convaincre que cette contrainte était une bonne idée et qu'il fallait persévérer. Par refus du confort et du conformisme du studio, avec son ingénieur du son et ses horaires fixes ? Pour introduire une rupture climatique avec deux premiers albums (un sans titre en 2012 puis Let It Glow en 2015), salués comme des réussites de pop made in France – ils sont chantés exclusivement en anglais, langue qu'il a choisie comme on le ferait pour un « un instrument de musique » ? Rover voit pourtant cet ensemble comme « une fratrie, un triptyque : les ingrédients et les outils sont les mêmes, et je ne m'en lasse pas ; le fil rouge est de parler de soi, du rapport au temps, à l'amour, à l'amitié, les actes manqués… et il y a toujours ma tronche sur les pochettes, je ne sais pas si c'est par ego ou par cohérence ». Sur celle d'Eiskeller, son profil col relevé évoque le Bowie-Nosferatu de Low – membre, avec les Beatles et les Beach Boys, de sa Sainte Trinité en B.
Refuge souterrain
« Tout est affaire de décor », rimait Aragon. Celui de Rover pour Eiskeller était fait de murs épais, tuyaux de réfrigération, miroirs et sacs de boxe – un club avait récemment élu domicile dans la glacière. Ni internet, ni téléphone, ni même eau courante. « On est coupé de la lumière du jour, raconte-t-il. Quand j'éteignais, j'avais presque le silence absolu de la grotte de Lascaux, un noir qui frôle l'angoisse. Ça m'a plu. C'était intimidant et dur de crâner là-dedans. De toute façon, personne n'écoutait ce que je faisais. » Ce refuge souterrain, il a fallu l'apprivoiser et l'aménager, avec des couvertures aux murs ou en plaçant les micros après essais, prise de notes et marques au sol avec du scotch.
Lire la critique (en 2016) : Rover, l'œil dans le rétro, le cœur à l'aventure
La difficulté principale (résonance) était d'enregistrer la batterie Ludwig, marque d'élection de Ringo Starr, modèle patent et assumé du touche-à-tout qu'est Rover pour cette « patte lourde et élastique comme un phrasé de basse », dont les roulements ne ponctuent pas les phrases mais s'immiscent en elles. Le reclus a interprété « comme un encouragement » la découverte dans la benne à ordures de « deux panneaux acoustiques de deux mètres de large des années 1970 : de la toile de jute qui puait la clope, mais ça coûte une fortune ! J'ai nettoyé, aspiré, et je les ai placés devant la batterie pour créer une bulle. Je les ai gardés comme des reliques car ils m'ont fait reprendre confiance dans le disque ».
Ces treize titres côtoient le sublime des productions feutrées et calfeutrées
de l'aube des années 1970
Et quel disque, mes aïeux ! Autour de ses fétiches, Rover a transformé son entrepôt en palais des glaces, où il a pu contempler ses états d'âme. En disciple du Lennon post-Beatles, il ne parle jamais que de lui – « Ça me permet de me comprendre, ce qui est la meilleure manière de comprendre les autres », reconnaît-il. De l'éther délicat de To This Tree, « une lettre ouverte à la génération d'après », au folk rock de Woys, les treize titres d'Eiskeller côtoient le sublime des productions feutrées et calfeutrées de l'aube des années 1970, avec pianos réverbérés, basses rondouillettes et mélodies crève-cœur. Des ballades en mid-tempo alangui, jusqu'à l'ambient avec Cold and Tired et son effet vocoder à l'agonie, dans un usage proche de celui qu'en fait Bon Iver : « Tout est en suspens comme l'eau quand elle se met à geler. »
Il faudrait toutes les citer, la déambulation métronomique de Venise Hat, For Ages, vulnérable comme un Lennon congédié par Yoko Ono, Roger Moore, beau comme du Harry Nilsson au sommet de son spleen, le solo déglingué de Wasted Love avec sa guitare de supermarché sortie de la réserve de jouets de Pascal Comelade, la complainte hululante de From the Start… Chantés d'une voix androgyne et mutante, qui va de l'ange à la bête blessée. Comme les baroqueux, Rover joue sur instruments anciens. Eiskeller offre une place de choix aux claviers, avec en majesté le Mellotron, cet ancêtre du synthétiseur usité par les Beatles, les Moody Blues ou King Crimson : « J'ai voulu confronter le froid de la glacière à la chaleur de l'analogique. »
« Mini-bibliothèque humble »
Evidemment, cette mélancolie de ce qu'on n'a pas connu s'inscrirait davantage dans le postmodernisme que dans l'avant-garde. « Je n'ai pas de complexe à m'inspirer de ce qui m'a donné envie de faire de la musique, répond Rover, car ça m'a sauvé la vie d'écouter des disques au casque au Virgin de Rennes quand j'avais 18 ans. Et je n'ai pas la prétention de révolutionner les choses. Plus ça va, plus c'est l'artisanat qui m'intéresse. Un artiste se pose la question de ce qui sera écouté dans six mois. Moi, non. »
Ce compagnon du devoir ajoute : « J'adore mes disques, alors qu'il y en a qui ne s'écoutent plus. On est dans une mini-bibliothèque humble de soi-même. » Avec pour seul dessein de « refléter qui on est et ce qu'on aime », Rover a offert une illusion vertigineuse : l'auditeur croit découvrir dans Eiskeller un trésor perdu des dives seventies alors qu'il a été assemblé par un garçon né à la mort du punk.
Eiskeller, Cinq7/Wagram. Tournée : le 5 juin à l'Espace culturel François-Mitterrand de Canteleu (Seine-Maritime), le 10 à La Cigale (complet), Paris, le 14 juillet aux Francofolies de La Rochelle… rover-music.com