Rover/Revolver Cité de la musique 19.09.2020
Rover/Revolver Cité de la musique 19.09.2020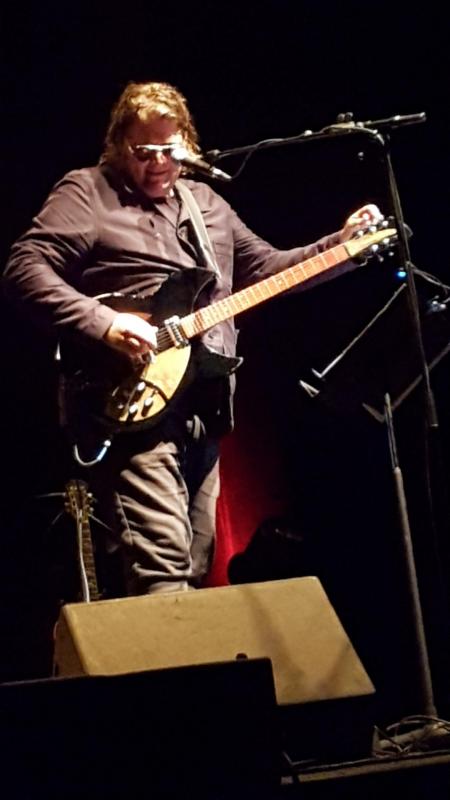 Revisiter le mythique « Revolver » des Beatles, c'est gonflé !
Ce samedi 19 septembre 2020, le public (masqué) a rempli la jauge autorisée de la salle de concert de la Cité de la musique.
Grand fan revendiqué des Beatles, malgré qu'il soit trop jeune pour les avoir connus « en action », Rover, alias Timothée Régnier a décortiqué, disséqué jusqu'à la moëlle les quatorze titres de cet album marquant, sorti en 1966.
Contemporaine des Beatles, j'ai eu la chance -avantage d'avoir un aîné- de connaître ce sentiment fébrile d'anticipation en découvrant chaque nouvel opus des quatre de Liverpool. L'objet 33 tours étant autrement sexy qu'un morceau en MP3 au son raboté par la compression, c'était d'abord une pochette, dont on étudiait chaque détail.
Celle de « Revolver », de la plume de leur vieil ami Klaus Voormann, était déjà un voyage en soi. Puis le diamant touchait le sillon et un univers s'ouvrait…
En cet après-midi orageux (le concert débute à 16h30), la scène est occupée par un piano, une boîte à rythme antique, un peu crachotante et indisciplinée, un synthé et deux guitares.
Car Rover « is going solo ».
Un peu comme au concert de l'Athénée à la fin de la première tournée et aussi dans l'esprit de la dernière tournée avec l'émérite Sébastien Collinet. Tim a décidé de défier ces morceaux que tout amateur de musique, et il n'est pas le dernier, a dans l'oreille et la mémoire. On vous l'a dit, c'est gonflé !
Et à la fois jouissif, vertigineux et déroutant.
Déroutant pour qui a littéralement grandi avec ces chansons, dévoré les paroles dans les songbooks de l'époque et les connait encore (à peu près) par cœur tant elles sont ancrées dans une mémoire alors toute jeune. Mais aussi parce que, les Beatles, leurs producteurs (ici le sorcier George Martin) bidouillaient beaucoup en studio, jouant avec toutes les possibilités de l'enregistrement analogique, si cher à Rover. Les différentes couches d'enregistrement, les accélérés ou ralentis, des instruments jamais connus dans la musique dite « rock »…
Arrangées ou dépouillées de leurs atours et interprétées par une seule voix, ça n'a évidemment pas la même gueule ! Mais quel serait l'intérêt, à part pour le fun et l'hommage, de refaire -forcément moins bien- ce que les Fab Four créèrent avec les moyens de leur époque ?
Rover - with a little help from his friends- s'y était essayé pour un unique concert à Radio France où l'album pourtant si complexe qu'est « Sgt Pepper » fut magistralement interprété avec des musiciens amis au plaisir très communicatif. C'était un bonheur musical. Il était autre, ni mieux, ni moins bon, car quand il y a bonheur, qui s'intéresse à la hiérarchie ?
Aujourd'hui, Rover a décidé de dénuder les chansons de « Revolver », d'y insuffler un peu -n'ayons pas peur des mots- de son âme en se livrant à cet exercice pourtant très casse-gueule.
Sa voix unique, d'une tessiture naturelle impressionnante, lui permet quelques numéros de haute voltige, métamorphosant certains titres (comme « Yellow submarine ») à les rendre presque méconnaissables. Les puristes vont peut-être grimper aux rideaux. Qu'importe !
D'autres titres, notamment les ballades, se prêtent à la coloration un peu mélancolique qu'apprécie l'artiste. Qui sait aussi, quand il le faut, rendre le côté grinçant d'un « Dr Robert » ou donner une toute autre tournure au joyeux « Good day sunshine ».
Au piano, « Eleanor Rigby », par sa thématique même, exhale une douloureuse solitude, tandis que les influences indiennes du temps du Maharishi (que les Beatles rencontreront après cet album) font place, pour « Love you to » ou « Tomorrow never knows » à un dépouillement qui montre combien leurs textes et mélodies sont fortes et indémodables.
Chaque morceau ainsi disséqué montre, comme l'écorché des peintres, la forme de ses muscles, la tension de ses tendons, la texture et la fragilité que cachait l'épiderme.
Sanglé dans une veste de coton noir bien trop chaude pour la scène, agrippant parfois d'une main son piano ou à moitié assis sur le tabouret, soulignant d'un geste une envolée mélodique ou vocale, Rover habite ses chansons avec un appétit évident.
Lorsqu'il passe à sa bonne vieille Rickenbacker dont il déplore avec son humour habituel avoir peint à la bombe, en doré, les parties blanches (sacrilège !) le côté rock est bien là. L'oscillation entre les différents styles musicaux reflète celle des Beatles eux-mêmes.
Entre chaque titre, Tim, comme à son habitude, plaisante, fait le clown, célébrant avec le public la joie de ces retrouvailles si improbables en temps pandémique.
On sent bien que faire chaud à nos cœurs « sous le masque » le réchauffe aussi. Car l'artiste est privé d'expression scénique autant que nous le sommes de ce qui porte le si beau nom de « spectacle vivant », terme qui prend à cette heure tout son relief et sa dimension de partage et d'humanité.